As we near spring training and inch closer to the beginning of the regular season, roles on every MLB team begin to crystallize. Teams identify their closers, determine how they'll allocate playing time, and figure out the bottoms of their rotations.
While these roles are important to teams, as a Mets fan, at this point, I don't really care if Lucas Duda hits fourth or fifth, or if Addison Reed or Antonio Bastardo enters the season as the setup man. What I care about is the player who gets me pumped for the game each night, the player who forces me to come to Citi Field simply to see him play, the player who gets me emotionally invested in the Mets.
What we'll do today is figure out who that player is. Let's get started.
Yoenis Cespedes
Cespedes is tremendously exciting. His immense power is fearsome to behold and he plays the game with a joy that's easy to see.
His play in the outfield is what sets him apart from other sluggers. Not his good play, mind you, but the kind of riveting drama that comes with not knowing whether or not he'll catch a routine fly ball.
To be fair, his mistakes aren't at the level of Kyle Schwarber's fielding gaffes, but they're still pretty painful.
However, there's still plenty of good along with the bad.
In addition to those magnificent throws, one of Cespedes' more entertaining quirks is his penchant for, after making a catch, throwing the ball back to the infield underhand.
Cespedes is very exciting, of course, but a lot of his excitement stems from his mistakes, removing the favorite from contention early on.
Jeurys Familia 
Familia too is a riveting player. The 26-year old took over the closer job last season and kept it for the rest of the year, racking up 48 saves.
He wields a variety of wicked pitches. The movement on this pitch is absolutely ridiculous:
Familia was good enough that he was able to come into games and easily shut the door on any potential threat. Just take a look at what he did to the Nationals at the end of one game last year: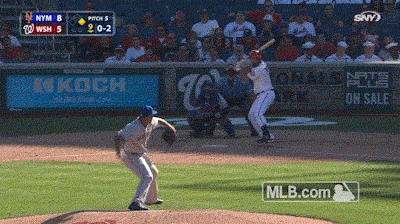 Simply evil. That second strikeout, the one that came against 2015's NL MVP, Bryce Harper, came on a filthy 96 mph splitter.
Most important, however, are his entertaining post-save celebrations.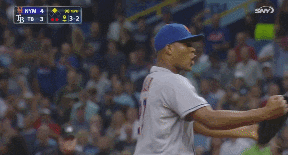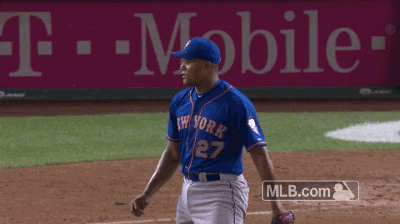 You can't be a good closer without being able to celebrate effusively after a successful save.
Familia's case for being the Mets' most exciting player has a serious flaw: Wouldn't anyone put in his position be exciting? I mean, he's a closer on a contending team, one that has provided him with plenty of opportunities for saves. In the pivotal ninth inning situations in which Familia most often appeared, Mets fans would have been glued to the TV regardless of who the closer was.
To be clear, Familia's certainly not a run-of-the-mill pitcher, but I don't think he's quite worthy of the title of being the Mets' most exciting player.
Noah Syndergaard
Syndergaard, put simply, is electric. Last year, as a rookie, no other starter averaged a faster pitch than Thor's 97.3 mph four-seam fastball.
I love watching Syndergaard's smooth delivery and unfair pitches. While writing this section, I went down a forty-minute wormhole of watching GIFs of Syndergaard. Here are the four best I found: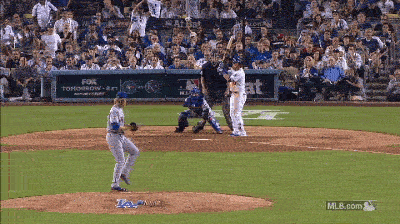 That pitch looked like it decided, about halfway to the plate, to slow down of its own volition. The best part of that pitch? The batter, Justin Turner, turning to the umpire afterwards, probably saying something like: "We need a rule change. That can't happen again. That's completely unfair." The scary thing is that he might be right.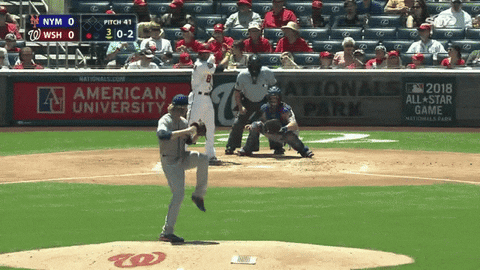 Ho-hum, just another nasty pitch to strike out the 2015 NL MVP.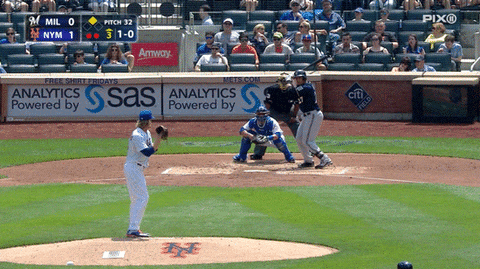 Perhaps hitters should start wearing chin straps on their helmets when they're facing Syndergaard. After all, it's kind of embarrassing when you completely whiff on a pitch, spin around completely, and then, adding insult to injury, lose your helmet in the process.
That's dastardly. That's a 98 mph pitch that changes direction right as it hits the plate, curving in as a strike, even though it had looked to be a ball. You've gotta feel for Yangervis Solarte; there wasn't anything he could have done about that.
So yeah, Thor is ridiculous. But is he the most exciting Met?
He's definitely close. He's got some of the best pitches in the game, and, at 23-years old, he's only getting better. The problem is that his starts, while spectacular, aren't quite events. To me, the most exciting player on the team is the guy who forces me to come to Citi Field, simply to bask in his glow, joining the revelry surrounding the game. Syndergaard isn't quite there yet.
Matt Harvey
I've got the same opinion of Harvey as just about every other Mets fan: I like him, but he fell considerably in my eyes after the innings-limit debacle of last season.
However, there's absolutely no question that Harvey is the Mets' most exciting player. No one else on the Mets inspires quite the same mix of emotions as him, that unusual combination of mild disgust and disdain coupled with effusive admiration and love.
And, remember the criterion I just mentioned? Harvey's starts are true events. On Harvey Day, fans come in droves to watch him pitch, sporting Batman masks and cheering on their homegrown star.
Just remember what happened last season in his return to Citi Field after his long absence due to Tommy John surgery? In case you forgot, here's his first pitch back on the mound:
That chanting, those cheers, that excitement that Harvey produces? That's what makes him the Mets' most exciting player.