Here is (and I reserve the right to change my mind as much as Brett Favre) the last Week In Review, or at least for a while. The explanation is at the end of the article. The big question is whether or not hearing this now will make you skip to the end of the column, read it, and leave in tears and never come back. Or, maybe, you'll skip the first part and leave in tears and never come back. Or, (and here's what I'm hoping for) you'll savor the last Week In Review that you'll see for awhile, then get to the end, read the explanation and understand, and come back as soon as my next column gets posted. Yeah, you're right, it's definitely going to be the first option. Oh well, it was worth a shot. Hope you enjoy the column!
Monday, May 26th, 2014
Los Angeles beat Chicago 5-2 to come within one game of the Stanley Cup Finals. This is not good at all. Remember what I said last week about the Rangers? They're worse than the two teams from the West so they need the series out West to go to seven bloody games so they can hopefully steal a couple of games against an exhausted team. That's their only chance. Now, the best case scenario is Chicago winning twice before the Kings manage to finish them off. Why? Well, if Chicago wins three straight to get to the Finals, then they'll be on a roll and very confident but if LA closes the Blackhawks out faster, then they'll be reasonably rested. If LA wins in 7, then they're tired, not confident, and drained—the best case scenario for the Rangers.
The Heat beat the Pacers 102-90 to take a 3-1 series lead, all but putting away Indiana. I was gonna think of something funny to write but then I realized that the Pacers are hilarious by themselves and that I don't need to add anything to that. But seriously, Lance Stephenson. What an idiot! He insulted LeBron, making LeBron find his inner Marshawn Lynch and go BeastMode by exploding for a 32-10-5. Don't be stupid. Never insult LeBron.
This is also big because for years LeBron was unable to find his inner fire and take over a series. The only hope for opposing teams is to leave him alone and hope that he doesn't decide to win. If you light a fire under him and get him motivated, then he's unstoppable. Remember the Heat-Celtics series from a couple of years ago? The Boston guys were talking trash the whole series with no response from LeBron. However, by Game 6, LeBron finally snapped and went for a 45-15-5 to essentially put the series away, before the Heat won Game 7. The lesson? Don't mess with LeBron. Lance Stephenson doesn't seem to realize this. I'd look a lot smarter if the Heat didn't have a 3-1 series lead, but even if they didn't, I would say this anyways: the Pacers have no shot after insulting LeBron.
Tuesday, May 27th, 2014
Oklahoma City beat the Spurs 105-92 to tie the series up at two. Westbrook had a game for the ages with a 40-5-10 with 5 steals. A stat that the world has been in awe of is that the last person to do that was MJ. Well, as I seem to be doing often, I'm going to tell you how stupid that is. Saying that an arbitrary baseline for a stat line suddenly becomes significant so that there'll be a story doesn't make the stat impressive.
While it may be true that the last person to notch a 40-5-10-5 was MJ, and getting a 40-5-10-5 is very impressive, being the last person since MJ isn't. It was a very, very good game, but when you narrow the criteria down for an achievement so specifically, it's nowhere near as amazing as the media will make it out to be.
You see, stats aren't all that important because individually, they don't say all that much. For instance, let's say that someone scored 45 points. Your first thought would be "Wow!". But that stat doesn't tell the whole story. To score 45 points, the player took 50 shots and made 20 of them. Then it's a lot less impressive. To properly figure out the meaning of stats, you have to take everything into account to make sure that the numbers aren't messed up by something else.
The Rangers lost to the Canadiens 7-4. It was pretty bad. While it's great that the Rangers fought back from a 4-1 deficit to tie it up at 4, it also seems pertinent that they let the Habs regain the lead and were unable to score again. Also, the biggest thing: Lundqvist played badly enough that he was pulled. If Lundqvist isn't playing at an elite level then the Rangers won't play very well either. This is not good.
Wednesday, May 28th, 2014
Well, Chicago managed to beat Los Angeles in double OT, 5-4, to narrow the series deficit to 3-2. All good. Two reasons why I'm happy Chicago won: one, by winning, they're extending the series and two, as I said earlier, this is what the Rangers need.
The Heat lost to the Pacers 93-90. So much for what I said earlier. LeBron didn't show up tonight, merely getting a 7-2-4. However, if LeBron manages to rip off a legendary performance on Friday night then I knew it all along. Still, something important to note, the Pacers starters all played their best tonight and still only beat the Heat by 3. Paul George scored 37, David West got a 19-9, Hibbert finished with a double-double with 10 points and 13 rebounds. Indiana played its best tonight and only won by 3 at home. That, in addition to LeBron, is why I'm confident Miami will easily beat the Pacers.
Thursday, May 29th, 2014
The Spurs blew out the Thunder at home, 117-89, continuing this series' tradition of the home team winning in a blowout. Serge Ibaka was a non-factor in this game, only scoring six points and grabbing two rebounds along with a couple of blocks. This is another series tradition: if Ibaka plays badly then the Thunder lose. In Games 1 and 2, Ibaka was hurt so the Thunder lost. Ibaka returned for Games 3 and 4 and, while he wasn't great, he was adequate, so the Thunder won. In this game, Ibaka was complete crap so the Thunder lost again. I'm happy. I'm hoping for a Heat-Spurs rematch so I'm cheering for Miami and San Antonio.
Lundqvist got mad that I doubted him and decided to prove me wrong. He blocked every shot he faced (although there were only 18) and outdueled Tokarski (who wasn't too shabby himself in stopping 31 out of 32 shots) 1-0 to send the Rangers to the STANLEY CUP FINAL!!!! WOOHOO!!!!! THIS IS AWESOME! YOUR MIND-VOICE IS PROBABLY SCREAMING RIGHT NOW. YOU JUST SMILED AND LAUGHED. UH OH. I THINK MY CAPS LOCK IS BROKEN. I'LL BE SCREAMING IN PERPETUITY. THIS IS NOT GOOD. I SHOULD PROBABLY GO GET IT FIXED. DOES ANYONE KNOW WHERE I CAN GET IT FIXED?
Friday, May 30th, 2014
Well, I managed to get it fixed, thankfully. If I hadn't then I'd be in trouble. I can't hand in HW in all caps. I can't make review sheets for Finals while in all caps. It'd be like me screaming at them that the conjugation of tener is tengo, tienes, tiene, tenemos, and tienen! (By the way, I may or not be using this to help me study) I'd be kind of like a drill sergeant. Drop down and give me twenty! Hey, I'm pretty good at this. Anyways, back to the sports.
In hockey, the Blackhawks beat the Kings 4-3 to tie the series up at 3.This is going fantabulously (a combination of fabulous and fantastic. It's a thing). Now the Kings need to pull out a Game 7 victory on the road for everything to be perfect. This is quite splendiferous. The Rangers made it in and all we need are the disheartened Kings. Los Angeles, New York stands behind you. Chicago should be scared. Although it's the third best city in the country, when the top two cities team up against it, it's going down. Number four is Boston and Miami probably rounds out the top five.
Miami closed out Indiana 117-92. LeBron rebounded from his crappy performance with 25 points and Bosh also has finally exorcised his demons against Miami, capping off a very good series with a 25-8. By the way, the Internet is hilarious. For instance, Lance Stephenson has given rise to a number of amusing GIFs. He lied down on the court and he blew in LeBron's ear, lending good material to the enterprising photoshop wizards of the Internet. Much hilarity ensued. My two favorite pictures are as follows: First, with the lying down one.
And now for the blowing one.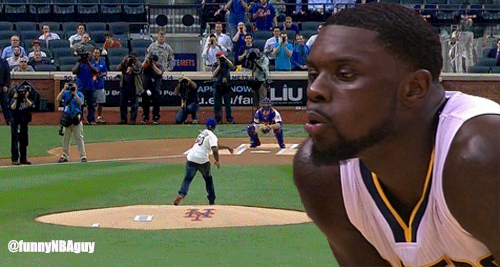 Speaking of 50 Cent, why haven't the Mets signed him to a three year contract yet? In a related note, I hate being a Mets fan.
Saturday, May 31st, 2014
Wow that was an epic game. OKC was up seven at the half but after a 37-20 3rd quarter, San Antonio pulled away to enter the 4th with a ten point lead. Then the Thunder mount a ferocious comeback to take the lead, 99-97 with 32 seconds left. Naturally, Manu Ginobili hits a three to take back the lead, 100-99 with 27 seconds left. Then the Thunder foul Ginobili but Manu misses the second free throw! Westbrook gets fouled and nails both free throws to tie the game up at 101 before it goes to overtime after Manu misses a jumper. Then Tim Duncan turned back the clock and outscores OKC by himself, 7-6, in overtime, to finish with a monstrous double-double with a 19-15 and putting away the Thunder. What a game. And I'm so excited for the Heat-Spurs matchup. I think I may even have a column about it in me, although it'd come out on Friday, after Game 1, so my prediction wouldn't be as trustworthy. Actually, that's a good thing for me: it's a lot less likely that I make a stupid prediction that I come to regret and that people will point at for years as proof that I know nothing about basketball (which may or may not be true actually).
Sunday, June 1st, 2014
Woohoo!!! Sports finally is working out the way I wanted it to!!! And no, I'm not talking about its abs. I got the Finals matchup I wanted, with the Heat and Spurs both advancing. Now, if you'll remember, (and if you don't, you might want to consult your local physician for a serious potential case of amnesia) earlier this week I talked about the best possible way for the series in the West to end for the Rangers. Remember? Chicago wins two straight before losing Game 7 at home? Yup, it happened exactly as I wanted it, if not better. The winners of the games happened the way I wanted, which is nice. Still, the Hockey Gods smiled upon me and gave me more than I had ever dreamed of. They sent a couple of games to OT (including Game 7) just to drain the Kings even more. What could be better?
For the actual game, the Kings won 5-4 in OT, capping a tiring run. They've played the maximum amount of games so far, 21, and a bunch of those games have gone into OT. How tired must they be? Of course, the Rangers played twenty, so I guess that's not much of an advantage. Oh well.
That's all for this week. Hope you enjoyed and I'll see you guys later!
Wait a second, about this column, it's tough to do. There's not nearly enough fun stuff to talk about for every day normally, especially when, in a couple of weeks, all there is for a couple of months is baseball. Ugh. (By the way, some time during the summer I'm going to write a column about why I hate baseball. I can probably get a couple of thousand words out of that.) It was fun during the playoffs with nonstop action and lots of important games, but I think I'm going to shelve it for the time being.
However, I'll still be writing, a lot, just not in the Week In Review format. I'll find other things to talk about, and hopefully I'll be able to say more about these more interesting topics. If people send in enough emails asking questions, then I can have a fantasy baseball article. In fact, send in emails with whatever you want to talk about and I can have a mailbag, in which I answer questions and comments from my readers.
In happier news, I can't wait until Thursday! Here's to a Finals for the ages!
Oh, and to all of you guys who skipped the whole article that I spent my time on, even though you probably can't read this through your tears, screw you.
Damn it, I'm alienating my whole readership. I had better end this article ASAP. Bye!